Breaking Barriers to Black Homeownership Initiative
"The intention of this initiative is not to reallocate resources or de-prioritize non-Black families. Instead, it is to develop new resources and capacity to ensure Black households have the same access to homeownership that others have had.  All families in need of affordable housing will benefit from enhanced resources and capacity moving us even closer to our vision of a world where everyone has a decent place to live. " Habitat for Humanity International
---
Watch the Breaking Barriers to Black Homeownership Kickoff Event Program
---
"I left that room in tears with a conviction to learn the history and do everything possible to promote Constitutional housing equality and Biblical justice for all Americans. My journey included Mr. Rothstein's book, The Color of Law. It's a comprehensive history of housing segregation in the U.S. in the 20th century. It's a hard read because it's not something we want to hear, but I challenge you to learn the history and effects of these policies at the federal, state, and local levels in the 20th century." Lynn Zucker, Executive Director, Buckeye Ridge HFH
On March 31, 2022 at The Brickyard in Marion, Ohio, Buckeye Ridge Habitat for Humanity hosted 225 leaders, stakeholders, and citizens of all diversities for the Breaking Barriers to Black Homeownership Initiative Kickoff Event. This event was attended by government elected officials of both parties, business, non-profit, faith, and educational leaders from all over the community, as well as many interested citizens.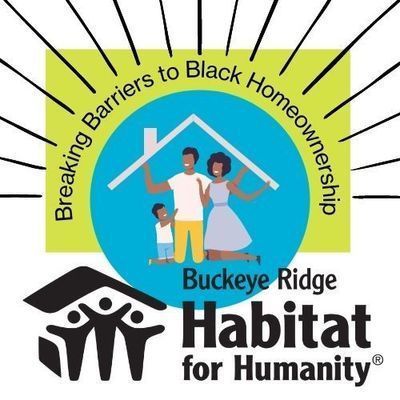 Across the country homeownership levels for African-Americans have dropped almost every year since 2004. Even at their highest point, Black homeownership rates were still one-third less than white homeownership rates. This reflects very little overall gain since the passage of the Fair Housing Act in 1968!
In Ohio, the gap between Black and white homeownership has been increasing for over a decade, and was over 36% in 2019. That's higher than the national average.
Let's bring this closer to home. Less than a third of African-American households in the City of Marion own their own homes compared to over half of white households. Looking at countywide statistics, the gap is even wider. Let's take a look at some of the historical factors that created this gap by viewing the film "Segregated by Design" by Richard Rothstein.
It is shocking to learn Congress repeatedly held up funding for housing from the Depression era through the post War period - during the nation's worst housing crisis - until getting racial segregation encoded in the legislation.
And, it is heartbreaking to learn that Black soldiers, sailors, and airmen were denied V.A. and F.H.A. loans solely on the basis of their skin. Veterans, from drafted cooks who kept the army going on their stomachs to the prestigious volunteer Tuskegee Airmen who risked their lives defending bomber groups over Europe, were denied the federally subsidized housing loans easily received by their white brethren!
Not only these veterans, but millions of Americans had been denied their constitutional rights in housing on the basis of ancestry! Lynn Zucker, Executive Director of Buckeye Ridge Habitat for Humanity states that when she first heard Rothstein speak "I left that room in tears with a conviction to learn the history and do everything possible to promote Constitutional housing equality and Biblical justice for all Americans. My journey included Mr. Rothstein's book, The Color of Law. It's a comprehensive history of housing segregation in the U.S. in the 20th century. It's a hard read because it's not something we want to hear, but I challenge you to learn the history and effects of these policies at the federal, state, and local levels in the 20th century."
For part of the first half of the 20th century, Marion and other towns in our service area were "sundown towns" – whites only after dark with signs at the city limits to make the point in graphic terms. Marion County Recorder Deb Miller has discovered numerous deeds from Marion County containing racial restrictions preventing future sale to anyone "not of the Caucasian race".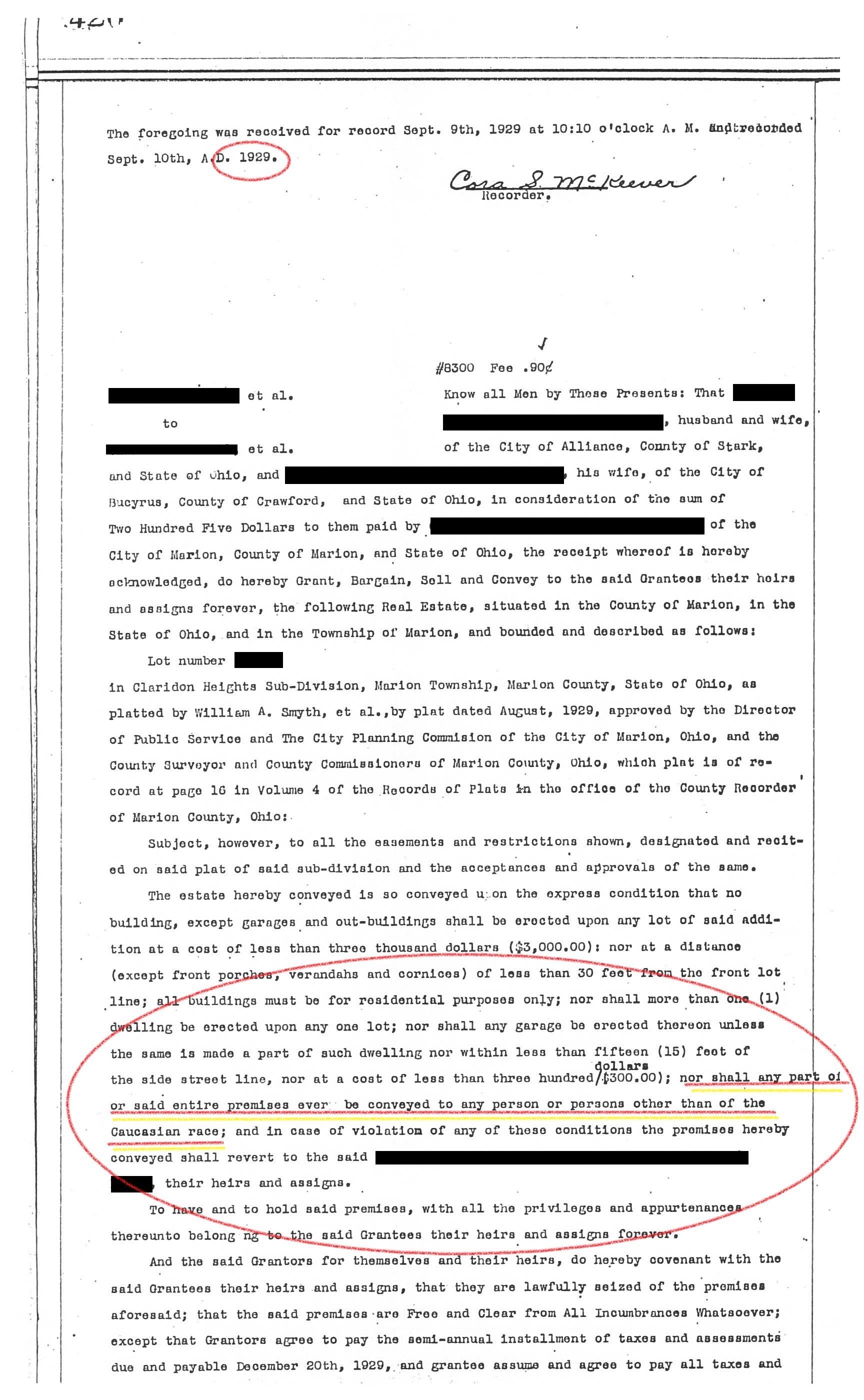 Racial restrictions in deeds were outlawed in 1948 under "Shelley vs. Kraemer", but let's talk about the reality. By the time of Shelley, most of those lots had already been sold to white homeowners and the neighborhoods had been built. Across the country, where redlining and racial deed restrictions existed segregation still exists today. Many have blamed that on de facto segregation, or segregation by choice. I challenge you to consider another possibility.
The de jure, or by law, segregation in housing created neighborhoods of poverty that couldn't be changed by the Fair Housing Act alone. Denial of the same homeownership rights held by whites caused a wealth gap that still exists today.
What was originally a matter of legally, although unconstitutionally, imposed racial segregation in housing in the 20th century has become a matter of economic segregation in the 21st century. The lack of opportunity for good housing – which limits opportunities for good jobs and education - set many Black families drastically behind economically compared to similarly situated white families, like the families of veterans coming out of World War II and into the workforce at the same time. The economic factors caused by government sanctioned segregation left many Black households in poorer neighborhoods and housing yet today. Thankfully, homeownership is STILL one of the best wealth builders available for ALL Americans, and there are many ways now and in the future for African-American households to make that a reality.
The Initiative
With our Breaking Barriers to Black Homeownership Initiative, Buckeye Ridge Habitat is seeking to come alongside as many African-American families as possible to help them make the dream of homeownership a reality. We want to directly and indirectly serve more Black families with homeownership. Our goals include targeted, respectful, and compassionate education with our proven Homebuyer University program. We are reaching out to leaders of traditionally Black churches and organizations across Marion, asking them to give us a venue to speak with their people. "Breaking Barriers to Black Homeownership" orientations for potential homebuyers are being sponsored by Whirlpool Marion and held at various traditionally African-American churches in the community during 2022. We hope that these orientations will bring more Black families into the pipeline for future Habitat homeownership.
We can also educate and guide households who exceed Habitat qualifications to other services they can utilize, through USDA, Ohio Housing Finance Agency, and Federal Home Loan Bank's Welcome Home program. Volunteers and staff will work with households who don't yet meet qualifications, training in remediating credit and income issues. We'll also continue to advocate for more affordable housing to be created in Marion, as there're simply not enough units for all of our below median income households. Finally, we'll seek units to rehab and repair for low-median income homeowners in traditionally Black neighborhoods to spur revitalization.
Throughout this initiative, we'll continue to offer below median income families of ALL colors a hand up, not a hand out, to homeownership. We're pressing forward and developing creative funding strategies which will enable us to tackle more projects alongside lower income residents of Marion City, rural Marion County and across Morrow, Wyandot, and Hardin Counties.